UK Housing Market Update – July 2020
published by
Fran Puddefoot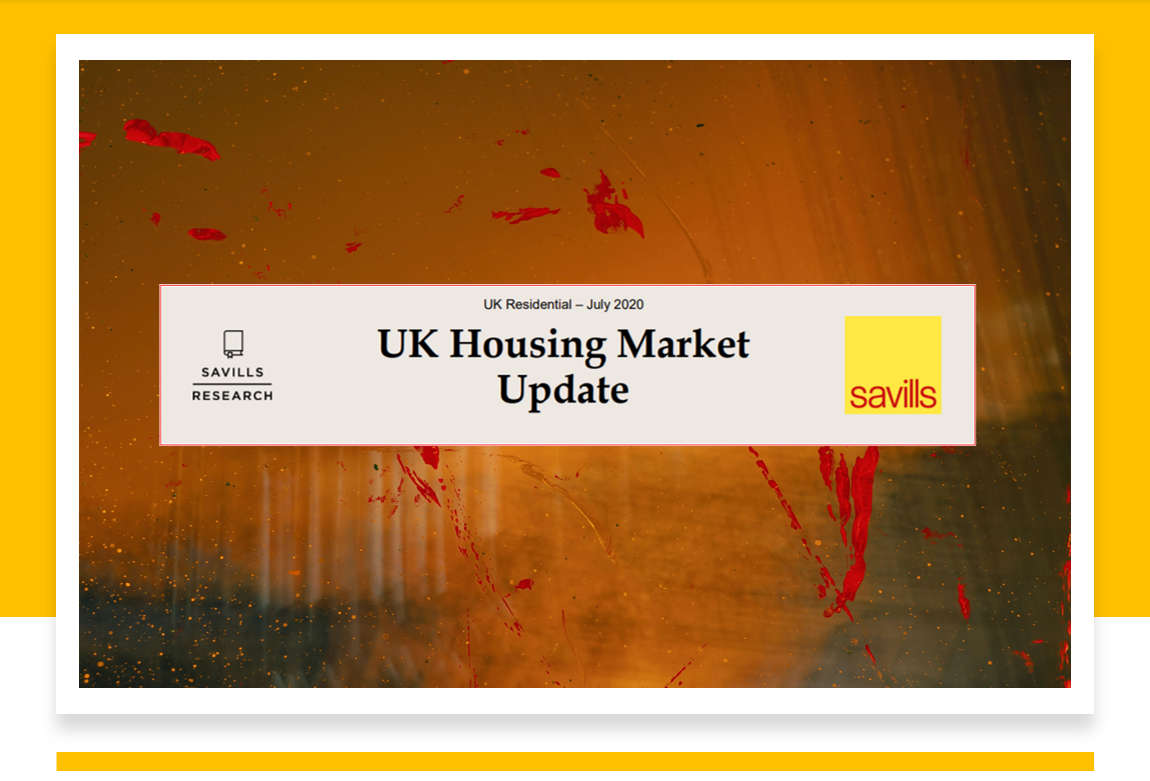 Activity Levels Rise As Confidence Returns to the Market
Summary
Data for June shows a continued recovery in market activity. According to the latest RICS survey for June, 71% of surveyors reported rising levels of new instructions, and 80% saw rising new buyer enquiries.
Savills analysis of TwentyCi data also showed a strong rebound, with the first week of July seeing the numbers of sales agreed 36% above the same time last year. There are reports from the major listing portals that also support a stronger than expected recovery. HMRC transaction figures aren't as up to date, but show a strong upward trend as well. 48k transactions were recorded in May, 16% above the April figure.
As the market recovers, it will be supported by the Chancellor's recent announcements. He has set out a number of measures to support the economy as the country emerges from lockdown. Most relevant to the housing market is a "Stamp duty holiday" that would exempt the first £500k of a property purchase from the tax. This means that an estimated 90% of home sales will now be free from stamp duty, saving buyers up to £15,000. Critically this will also apply to both second home purchases and Buy-to-Let investors. You can read more about our thoughts on the "Holiday" with greater analysis here.
The market's recovery will also be dependent on policy from lenders. Tighter restrictions on LTVs from some major lenders will limit mortgage availability, and may act as a drag on the market. For a full recovery, consumer confidence also needs to improve from its historic low. The GFK sentiment survey registered a slight rise in June, the first since March, but still remains deep in negative territory.
House prices fell by -1.4% in June, according to Nationwide, a slightly smaller fall compared to last month's -1.7%. This drags annual growth down into negative territory, with values -0.1% lower than they were this time last year. This is the first fall on an annual basis since December 2012.
Quarterly growth has been the strongest in Scotland, up 2.5%, followed by London at 1.5%. Wales has fared the worst, dropping -2.2%. It should be caveated that all pricing data is based on smaller samples than normal, which can lead to some volatility in the data.
Rental growth across the country sat at 1.5% in May. It was the greatest in the South West and the East Midlands, both at 2.5%. Growth was weakest in Scotland and the North East, each growing 0.6% and 0.8% respectively.
The latest RICS survey for June showed 62% of surveyors reporting rising demand from tenants, whereas only 48% reported rising levels of new instructions from landlords. This demand/supply imbalance can act as a driver for rent increases.
Authors:   Ed Hampson Research Analyst, Residential Research  and Chris Buckle, Director Residential Research, Savills
Subscribe to our newsletter